Jon Hoekema, Church Pastor
Jon has been pastor at Horizon since December, 2003. After spending 5 years in sunny southern California, the winters of Chicago were just too hard to resist! As Pastor, Jon brings real life into ministry. He's just as real as the person in the seats. And he doesn't hide that either.
Jon is passionate about prayer and seeking God's presence and power through prayer in his life, at Horizon, and in leading a prayer movement among congregations in the Chicago area with the Christian Reformed Church (the denomination which Horizon is part) and in partnership with The 6:4 Fellowship (www.64Fellowship.com).
He is also passionate about God's Word and making it relevant, real, and applicable to everyday life.
Jon and Cindy were married in August, 1995 and they have 4 children – Katelyn, Kyle, Alyssa and Jayson – who keep both of them busy.
Jon is also co-owner of Friendly Stitches Sew & Vac (www.friendlystitches.com), two doors down from church in the Meadowbrook Shopping Center.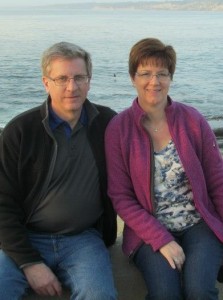 Bev NICODEM, Church Administrator

Bev has been at Horizon from the very beginning in March of 1999. She and her husband, Earl, were two of the original founding members of Horizon Community Church. They both continue to be very active in the church today. Bev took the position of Church Administrator in June of 2002 and is a valuable part of the leadership team. Bev is the mother of 3 beautiful daughters, two son-in-laws, two grandsons and 1 granddaughter.
One of Bev's favorite Bible verses is Isaiah 40:31
But those who hope in the Lord will renew their strength. They will soar on wings like eagles; they will run and not grow weary, they will walk and not be faint.